With the Leapwork Automation Platform, users at all business levels can build Web, Desktop, and Virtual Desktop automation in minutes. Cases are designed as flowcharts and automated without writing a single line of code. This means your organization can set up and run automation without having to learn a new skill set or rely on external consultants.
The Leapwork Automation Platform consists of three components: Studio (the designer), Controller (the server), and Agent (the runner).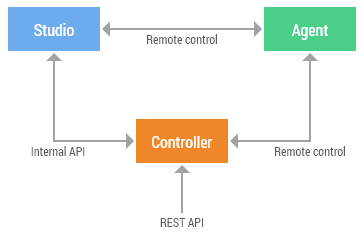 Prerequisite
Please ensure you have Minimum recommended system requirements for Leapwork.

Ensure that Port 9000, 6777, and 9001 are open in your firewall/network.

Please follow installation instructions per component mentioned below, and install one component per machine at a time.

It is recommended to install one Agent per virtual machine and have multiple Agents to be able to execute the test in parallel.

Note that, the Controller and Agents can be installed in closed networks without internet access, such as firewalled test networks. Studio, on the other hand, does require an internet connection for license activation and error reporting. Please contact our Priority Support if you are not having network access at all so that we can generate offline registration for you.
Installation
Let's consider a scenario where a user wants to install a platform with 2 Studios, 1 Controller, and 2 Agents, with one of the Studios, is installed on a physical machine and another on a physical laptop, rest all Controller and Agents are installed in a virtual machine on the cloud, as shown below.
Studio Installation
Leapwork Studio is a desktop application made for Microsoft Windows. It's a powerful, visual designer that can be used by anyone in your organization to easily create automation cases, set up schedules to run automation cases on physical or virtual machines and in the cloud, and dig into the results with dashboards and reports. A studio is usually installed on the user's physical machine or in a virtual machine accessible to the user. To install studio in the above scenario i.e. Studio 1 and 2 (PC, Virtual machine, or Laptop) please refer to Studio Installation article.
Controller installation
The Controller is a service that runs in the background, and it's also made for Microsoft Windows. It hosts and stores all automation assets such as cases, images, schedules, reports, and so on. It governs how automation cases are executed and select the execution environments at the runtime. The controller should be installed in a virtual machine on cloud or datacenter and it should run 24X7 to support continuous testing. One has to be very careful while installing the Leapwork controller and make note of the admin password and database keys for future use. A controller should be ideally installed in a central virtual machine in the cloud or any data center accessible internally to all Leapwork users, please refer to the Controller Installation document to install it properly.
Agent installation
The Agent is also a service that runs in the background on Microsoft Windows. It is the runtime agent that takes care of executing the individual automation cases one at a time when requested by either a Studio or Controller. The agents are usually Virtual machine with the same configurations as end-users, having an agent as virtual machine enable user to test without getting disturbed. Please refer to Agent Installation steps to install it on your physical or Virtual machine
Configuration
After installing all the components it's time to tie all components together. First thing is to connect to the controller and then activate your license. After license registration, you are all set to configure Agent and other environments in the platform using the following article configuration process.
Once the configuration is done, you are ready with platform installation. Now admin users can add users to allow other resources to participate in application automation.
For any clarification, please contact our Priority Support.